Our Background
Union Team Limited (Group) is engaged in the research, design, manufacture and export of a wide variety of sound-related components and products. Established since 1987, the Group has been developing into a substantial and influential group in Hong Kong and China. UTL continues to research and develop new products for the global ever-changing market.
In 1997, Components Division and AV Products Division are respectively established to provide more specialized products and service to customers.
UTL Products Division inherits the experience from the long immersion in speakeríŽs production. We produces quality Home Theatre System, Multimedia System, Headphones, Earphones, Handsfree, Microphone and even computer accessories. We welcome OEM projects and guarantee to devote our everlasting support to our dedicated customer.
With our every effort devoted, UTL pledge to serve all our valuable clients, with pride, with care, and with our experience.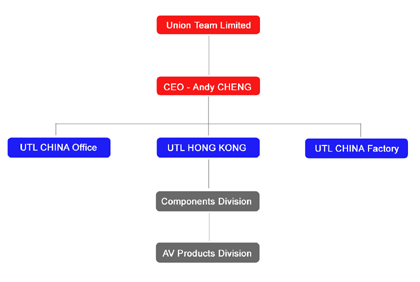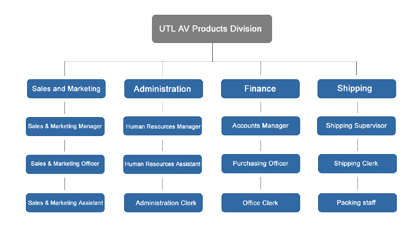 Our History
| | |
| --- | --- |
| 1987 | Union Team Limited (Group) established in Hong Kong and set up first speaker production line in China |
| 1992 | Microphone production line completed in China |
| 1996 | Third factory established. Transducer and other components production line completed |
| 1999 | Establishment of Components Division and AV Products Division |
| 2000 | Competition of AV Products production line |
| 2001 | ISO9002:1994 Certificate awarded |
| 2002 | ISO9001:2000 Certificate awarded |
Our mission
To be the best speakers supplier íV consistent, fastest and reliable íV with our dedicated full support to our valuable clients
Our Dedicated Service
One Stop Solution
Enjoy one-stop service at ease with our experienced and professional staff. The entire service is fast and easy.
1. Approach - Customer approaches us by email, telephone or written reference.
2. Conference íV We arrange conference as per customeríŽs request.
3. Account Analysis íV Sample preparation for our clients greatest potential to develop with professional advice we provide
4. Order Confirmation íV Order confirmed and production will soon start. Quality will be consistent as sample approved by Customer.
5. Quality Assurance íV Our well-trained officers stationed in Plant would regularly inspect and provide inspection report.
6. Transport Arrangement íV Goods will be delivered at CustomeríŽs preference
7. Post-sale Evaluation íV We welcome feedback and suggestions from Customers.
OEM Project Partnership
With full support from UTL, Customers can now enjoy their own brand name at ease. The entire process is straightforward handled by our experienced staff.
Our Future Vision
We continue to offer high quality products and to consolidate our position as one of the market leaders in Hong Kong. Besides, we seek for agents of excellent caliber to assist our overseas sales. We also seek for joint ventures and exhibitions. Nonetheless we research high quality products with the newest technology.